If you go to Willis Point and keep driving around the corner, you arrive here. At the end of the road, there's a trail leading to the water near the entrance to Tod Inlet. This area is part of Gowland Tod Park. The trail seems to be almost as long as the trail to Mackenzie Bight. The chart shows a fairly steep drop to over 100 feet deep. I showed up in mid-November, 2005. Since I've never heard of anyone diving here from shore, I wanted to have a look. Todd Inlet goes crazy with sail and powerboats anchoring here in the summer. I figured such a busy area would probably have some interesting stuff on the bottom. From the small pebble beach at the end of the trail, I swam straight out and down before turning left. The first thing I noticed was that the chart was deceiving. Usually steep areas mean rocky bottoms, but here the slope was made up of gravel, silt and small rocks. There were a few orange plumose anemones, sea stars, red rock crabs, and lots of shrimp: - All the usual non-rocky Saanich Inlet life. Other than that, the bottom was scattered with all kinds of expected junk like marine engines, stoves, sheets of corrugated metal, bottles, and tires. There were also some weird things: A plastic bag full of underwear, a dead seal being eaten by crabs, lots of coffee/tea pots, and even an I.D. card from Alberta (I picked it up and will probably mail it back to them and tell them where I found it). Once past the shallows, visibility was around 20 feet. At 120 feet deep, the slope seemed to flatten out and the bottom was covered with slimy, fuzzy white "mould" for as far as I could see. As I swam farther to the left, there was a steep rocky reef area around 100 feet deep. There wasn't much growing on it, but there were lots of quillback and copper rockfish. I also saw a Pacific cod, which I've never seen before. It was silver-coloured and around 1 1/2 feet long. This reef ended when I swam up to around 70 feet deep. A dogfish shark swam a circle around me before jetting away. About 50 feet deep, there was an upside-down fiberglass or aluminum boat with a shiny-looking outboard motor still attached. As I swam back up to the shallows, a little rock greenling chased me for a bit, trying to attack my fins. Overall, it wasn't that bad of a dive, but with Willis Point nearby, I'm not surprised that nobody comes here. In the summer, because of all the overnight boating activity, the coliform count apparently goes nuts.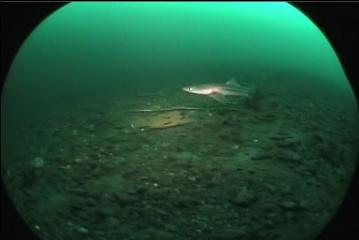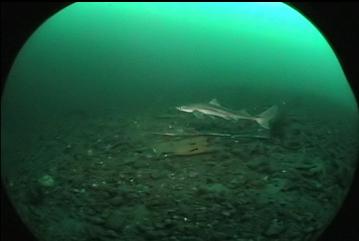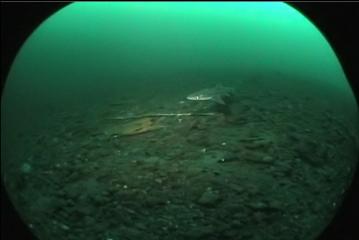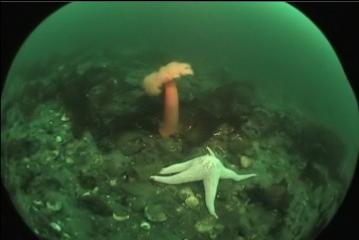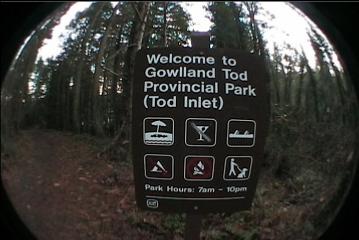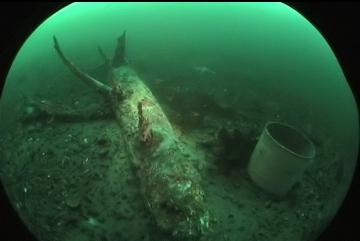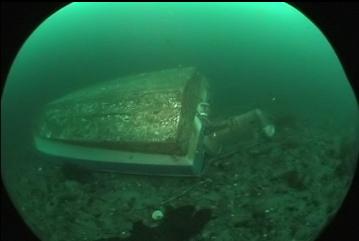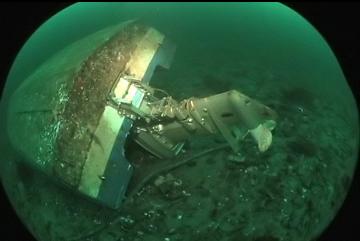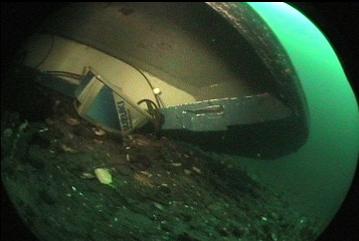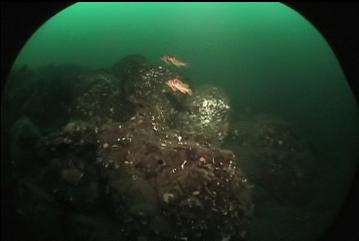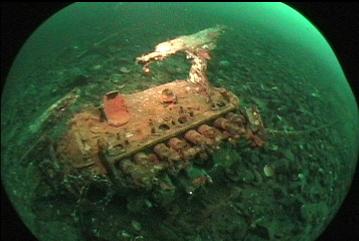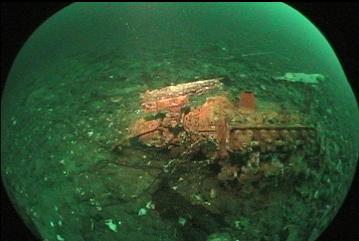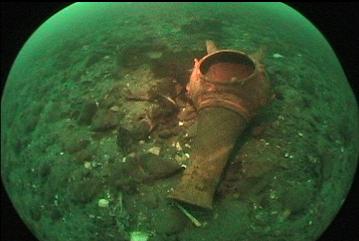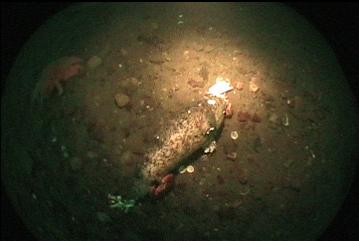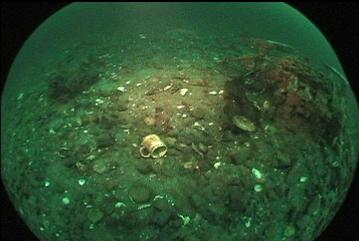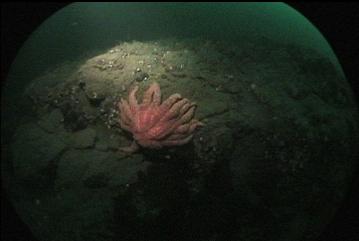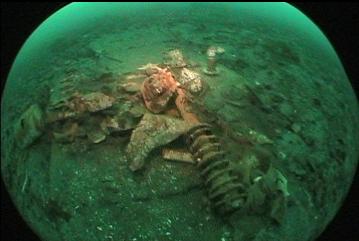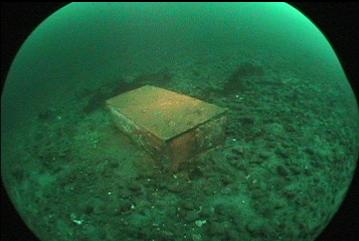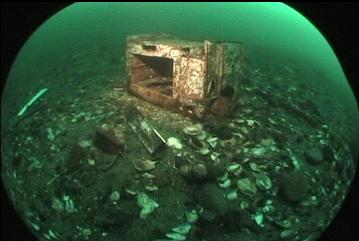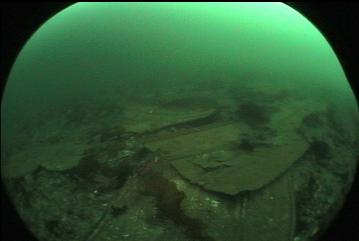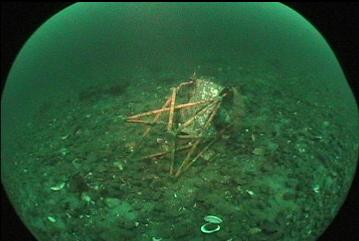 I tried this place out again in early January, 2007. I swam out to the point on the left this time as the chart shows a steeper, deeper area. Visibility was only a foot or two in the shallows, but cleared up to around 20 feet once I descended past 15 feet. The bottom was the usual sloping mix of silt and gravel until I reached 50 feet deep. Here a wall started up and went down to about 70 feet. Visibility at this depth was around 40 feet. There was a piece of wooden wreckage propped up at the base of the wall. It looked like the stern of a boat. I followed the base of the wall as it sloped deeper. I made it down to 120 feet, but I didn't follow the slope of rubble any deeper to see if the wall started up again. The rock was pretty bare. There were no anemones or sponges. The only life was the occasional seastar or group of copper rockfish. I turned around and followed the wall back at a shallower depth. The rocky area ended eventually and I was back among the junk that I saw on my previous dive here. The boat with the outboard seemed to be missing (although I might have not been deep enough). I did see another boat on it's side weighed down with rocks. I guess someone wanted to get rid of it.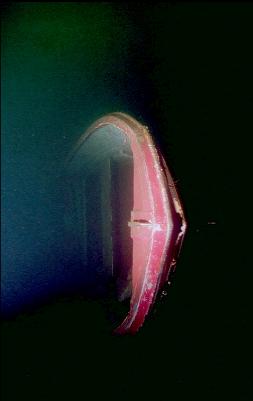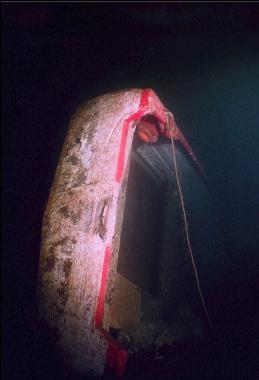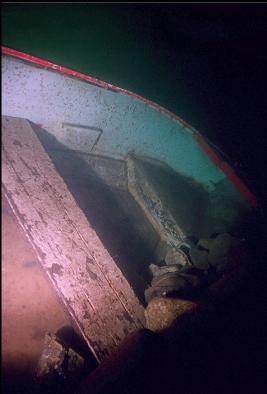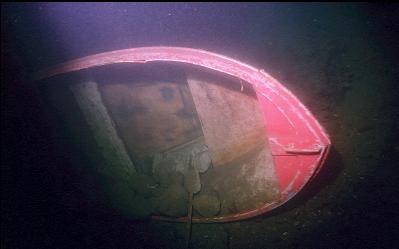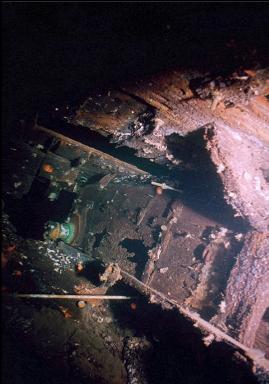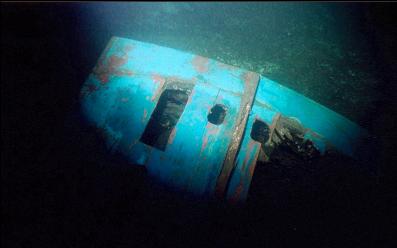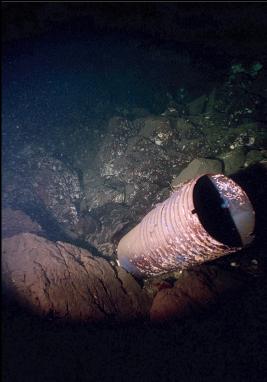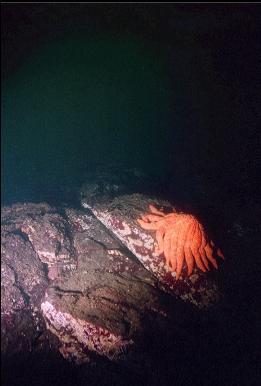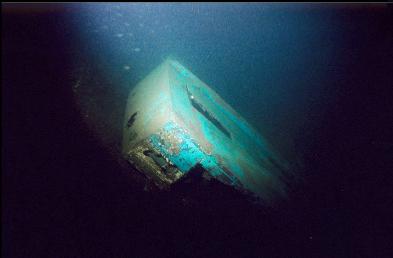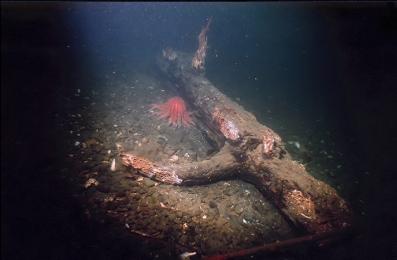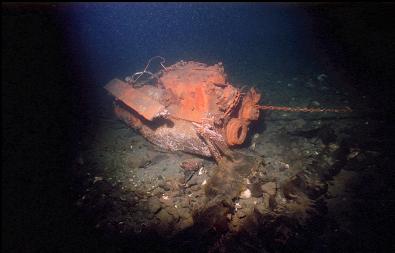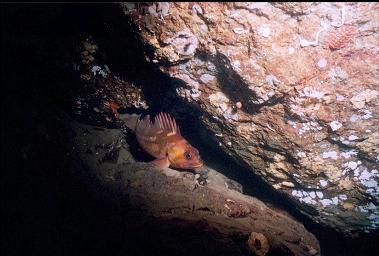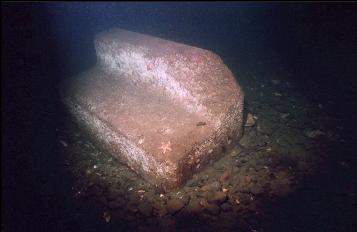 I had heard about a wreck of an old tug that used to be here 15 years ago about 40 feet deep. My "informant" said that he used to swim out to the right from the end of the trail (so far, I've gone left or straight out). I went for it in mid-January, 2007. When I got there, I could see that the entire surface of Tod Inlet was frozen over. I wasn't expecting that. I thought I could wade out through it without a problem, but it turned out to be a 1/2 inch thick. I couldn't walk on it, but when I laid out on it, it didn't break. I stomped away the ice so I could walk into the water. It was kind of weird to be standing waist-deep in the ocean and using the solid surface around me as a table to hold my camera while I put on my fins. I then used my elbows to lean on the ice and break a path to water deep enough to descend under it. Eventually, I ducked under and swam out under the layer of ice. I made sure that I could punch a hole through the ice from underneath if I had to ascend in an emergency. There was a shimmering, out-of-focus layer of fresh water in the shallows. Visibility was only a few feet here. Eventually, about 20 feet deep, the visibility improved to 20 feet. I leveled off at 45 feet and swam out to the right. The bottom was a gentle slope of silt-covered small rocks. There wasn't as much junk as in the other direction. There wasn't much of anything except for the occasional sunflower star and orange plumose anemone. There was one rocky area with small overhangs and crevices housing small copper rockfish. There were lots of crab shell-littered octopus dens here, but I didn't see any octopus at home. After swimming for 35 minutes, I gave up and started swimming back at a shallower depth. I realized I couldn't swim back on the surface because of the ice and I didn't feel like walking back so I used my pony bottle to make sure I had enough air to swim all the way back. I passed a bed of eelgrass that was planted by an eelgrass restoration group to try and reintroduce it to Tod Inlet (this used to be a big herring spawning area, but pollution and anchors killed off the eelgrass and the herring haven't been seen since). The grass didn't look like it was spreading, but at least it was alive. Eventually I made it back to the broken ice where I entered. Walking back up the beach, I looked back and could see my route under water traced out like a map. There were big white blotches evenly spaced out from my bubbles under the ice. The tide was going down and it was pretty noisy with the ice on the beach breaking up and the submerged rocks poking through as the water under the ice receded. It was definitely memorable, but I think I'm finished with this place.