SUMMARY:
Another one of the few popular shore dives in Saanich Inlet. The easiest way to go deep in Victoria.
LOCATION:
At the end of a gravel path off Mark Lane. Don't park on the path. For more info, visit a dive shop or check a map. The dive is straight out from the end of the path and a bit to the left.
WHAT TO SEE:
A wall drops off not far from the entry point. Since this is in the calm, current-free waters of Saanich Inlet, there isn't much growing on the wall. Near the bottom of the wall at 120-130 feet there are quite a few boot sponges. Some of them have little crabs and decorated warbonnets living in them. Don't touch the sponges! They will die. There used to be huge cloud sponges here years ago, but divers kept poking at them so there is only one smaller one left at the far end of the wall. At the base of the wall the boulder-covered bottom slopes away as deep as you want to go. Copper and quillback rockfish and lingcod can be found at any depth. There are a few octopus dens. In the shallower areas, you can see lots of little "squat lobsters'.
CONDITIONS:
The wall starts at about 30-40 feet and bottoms out at about 130 feet. Tech divers can go deeper if they want by following the sloping bottom out from the wall. Visibility is pretty horrid in late spring and early summer because of plankton blooms, but clears up nicely during the rest of the year, sometimes 50 - 100 feet. With no current, the only thing to worry about here is your depth.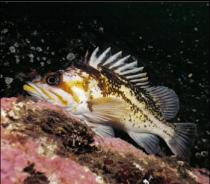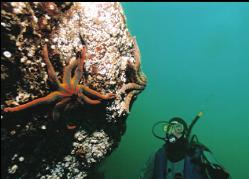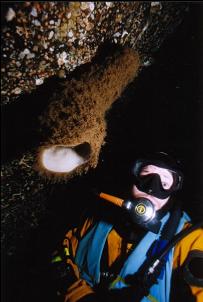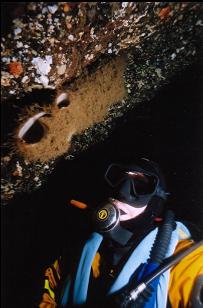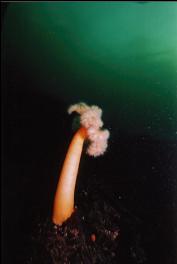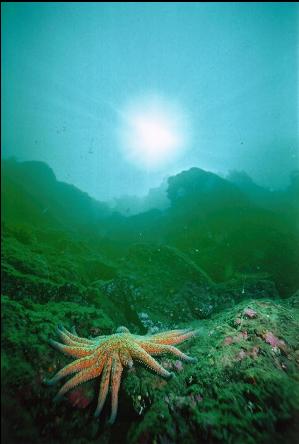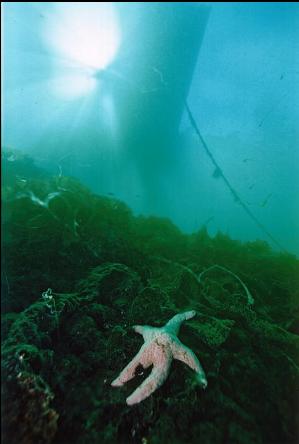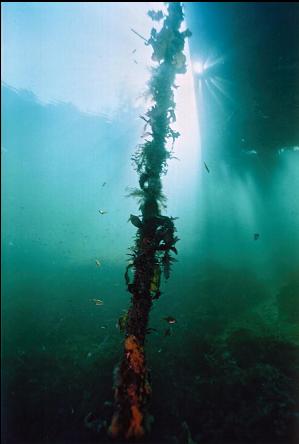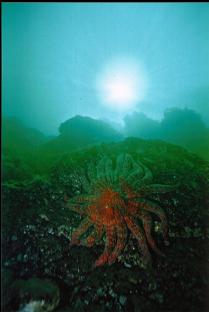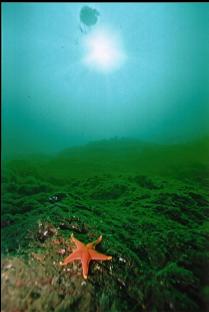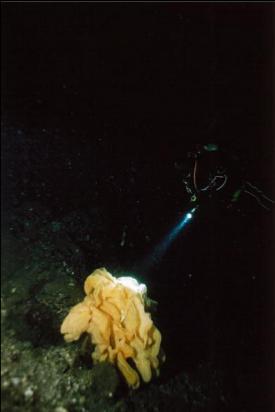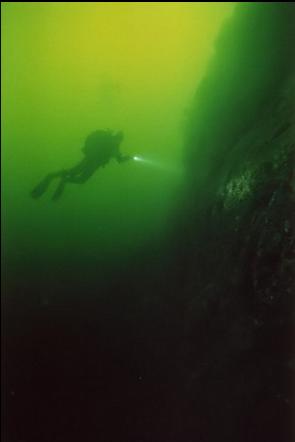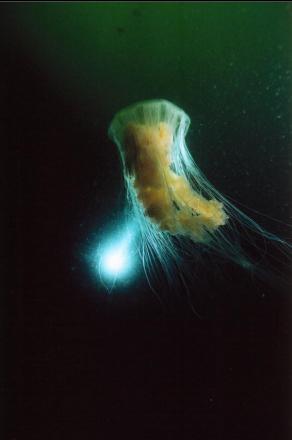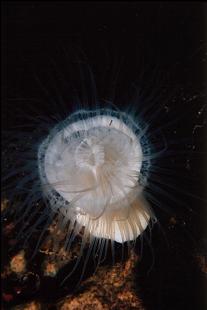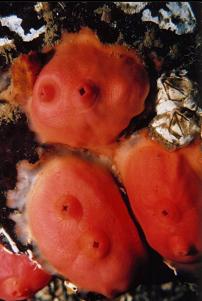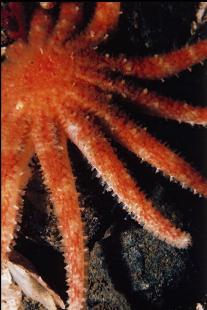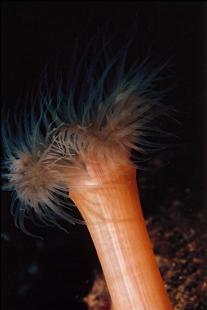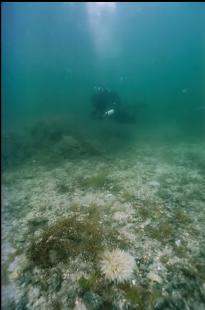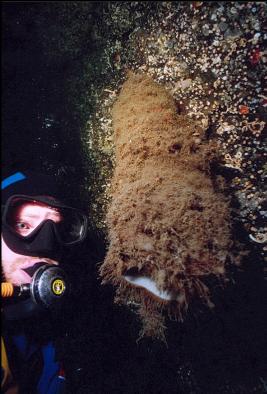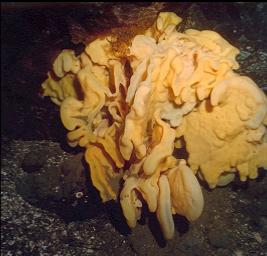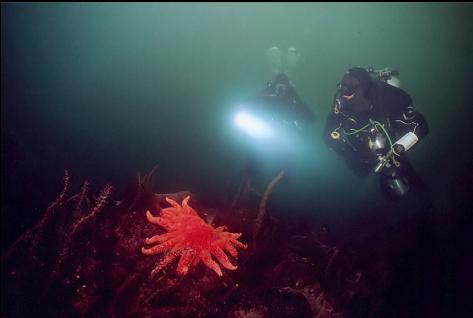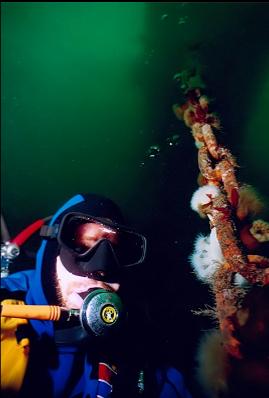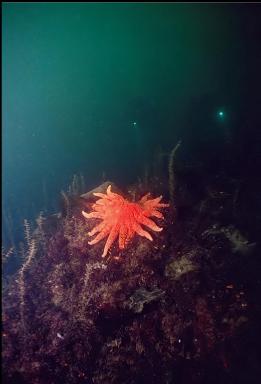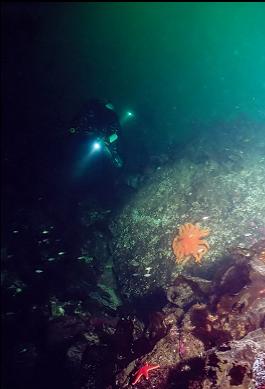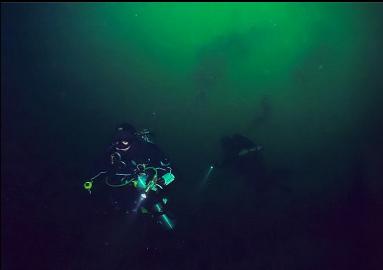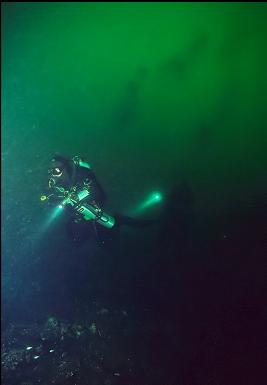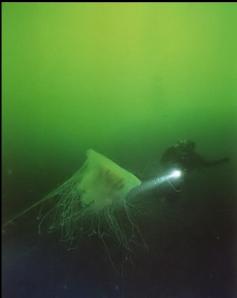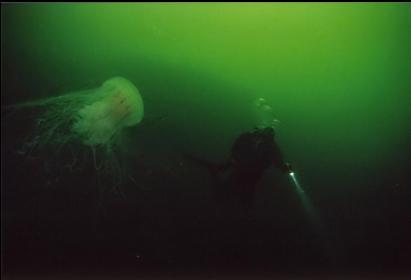 Since this is the easiest place to get deep in Victoria, I came here in early March, 2007 to test a camera housing. I brought along my Nikonos 3 and 17mm lens just in case I saw anything interesting. I decided to look for one of the wolfeels that lives on the slope at the base of the wall. There was an old bathtub surrounded by some large boulders at around 140 feet. Yellowtail rockfish were swarming around everywhere. I saw a tiger rockfish a bit deeper and I remembered my old theory that tiger rockfish are usually around wolfeel dens. Sure enough a male wolfeel was poking his head out of his den about 2 feet above the tiger rockfish. Visibility was around 20 feet in the shallows and 40-50 feet deeper down.