I had no luck with previous efforts to find this wreck, but one afternoon last week I was hit by a lightning bolt of intelligence (it didn't hurt much. I should try it more often). I was at my usual Victoria Public Library hangout (an exclusive retreat for the ultra-cool) and I remembered my Quixotic quest and thought I'd check the latest version of the marine chart to see if it had been updated with the location of the wreck. As I pulled out the chart (2005 issue), I could hear it crying out to me: "I've been waiting so long! Where were you?". I told it to shut up and noticed that the wreck was marked as being at the point just South of the Mill Bay Marina. I'll mention that according to the Underwater Archaeological Society of B.C., the wreck is a 50-foot or so fishing boat called "Lord Jim". I went out this afternoon (end of April, 2006) to make sure the chart wasn't just another practical joke. I parked at the end of Shorewood Road, which leads to the beach I tried before. Instead of turning right though, I walked left towards the marina. There was a large red mooring buoy just off the point, which was in the right spot according to the chart. I seemed to have showed up in the middle of some kind of High School skinny-rowing-boat-type race (I think they're called "sculls"?). Anyway, If you wanted to design the most unseaworthy kind of boat you could imagine, then made it even narrower and lower to the water, you would end up with one of these. I lost count of the number of them. I didn't know there were this many in all of Canada. If this was Oxford, I could understand. The water was swarming with several motor-boats desperately trying to keep them in order. There was a panicked-sounding guy with a megaphone yelling out directions to the teenagers who all seemed to be ignoring him. The point is, all of this was going on right where I wanted to dive. The race course was in the channel between shore and the red buoy. I figured I'd take a quick compass-heading, duck underwater and swim out to the wreck under all the chaos. As I went in I was surprised that none of the babysitting boats came up and yelled at me. I guess my ploy of waving my dive knife and rolling my eyes into the back of my head worked. By the way, if you're ever diving somewhere where maybe you shouldn't be, this technique will usually slow down your pursuers long enough to let you get in the water. Anyway, visibility in the shallows was around 3-6 inches. That's seriously the worst vis I've ever seen. Even worse than the Fraser River. It started to clear up a bit at around 10 feet deep. There were the usual Mill Bay orange plumose anemones everywhere on the flat sand-gravel bottom. After a short swim, I reached 20 feet depths and visibility opened up to an amazing 3 feet. Then I literally swam into the wreck. I saw it just in time to stop swimming, but I had to put out my hand to stop my face from bumping into it. After a bit of mental detective work, I realised that my hand was on the rudder. I swam a bit farther and saw the propeller. I'd guess it was about 3 feet high. I swam down the port (left) side where the hull met the sand. Visibility improved towards the bow (30 feet deep) where it was around 10 feet. The port side was pretty bare, but as I swam around the bow, I saw that the starboard side was covered in plumose anemones. The mast had fallen down and was also covered with plumose anemones and plume worms. This whole time I was enjoying a heart massage from the rumbling of the baby-sitter's boat engines. I swam up to the superstructure, but the visibility was back down to 3 feet here. I poked my head into a room (wheelhouse?) and could see light shining in through the windows (still covered with glass). A big group of small perch were swimming around in here. I swam past the smokestack and more algae-covered windows. Everything up here was covered with plumose anemones. I swam back down to the propeller area where visibility seemed to be getting better. The tide was rising and carrying away all the crud. I took advantage of the better vis to take a few pictures (self-portraits of course). I ran out of film and without this security blanket, decided to go back to shore. There were swirls of white milky stuff like smoke in the water. It was shooting out of the seastars and anemones. It's a good thing I'm naive and didn't know what it was as I swam through it. When I surfaced, I could still hear the yelling. One of the sculls was on the rocks and another one had sunk. Fortunately for the life-insurance companies, the water was only chest-deep. I could see their pitiful eyes and outstretched hands as they cried for help. Unfortunately I was in a hurry to have my film developed. I'm sure someone came along and rescued them eventually. Their pleading wails grow fainter as I drove away. Despite the visibility, this was a great dive. I can almost see my camera drooling over the possibilities of 50-foot visibility (ok, it's Mill Bay, but you never know) and a shallow, life-covered wreck on a bright sunny day.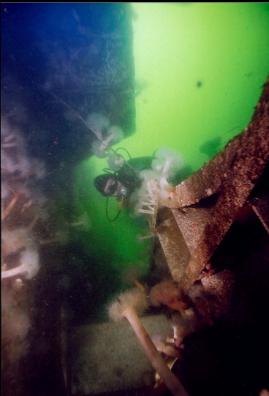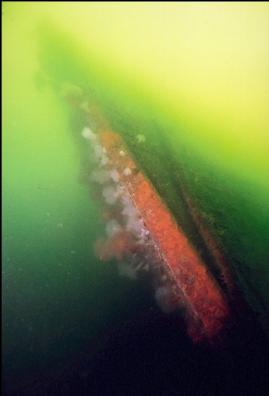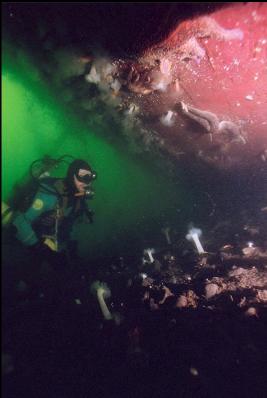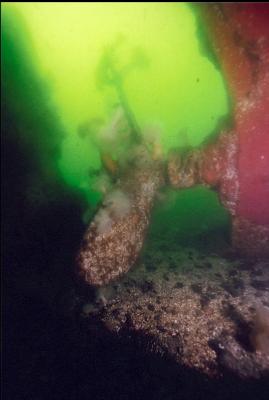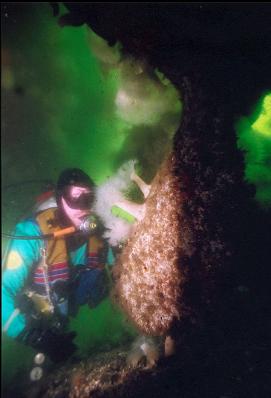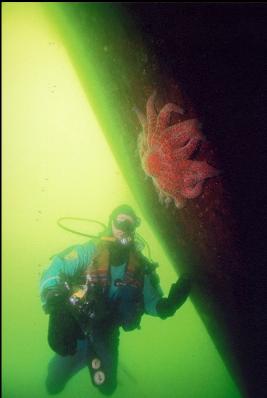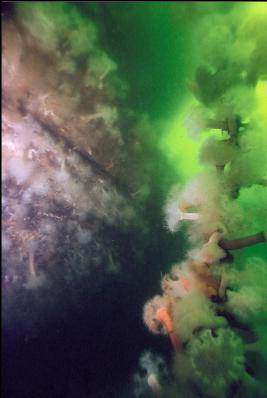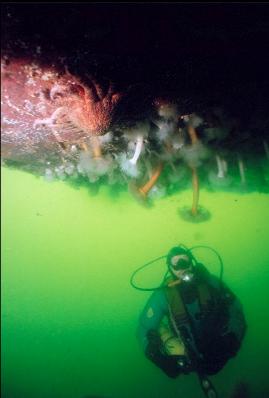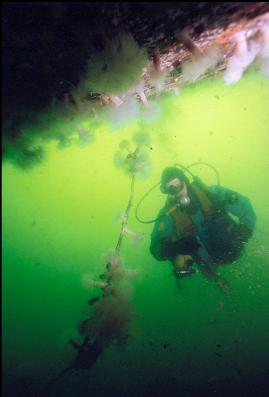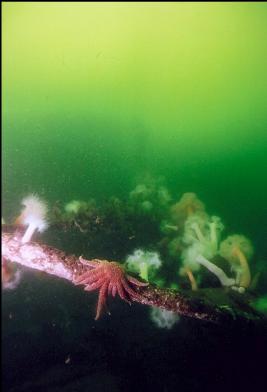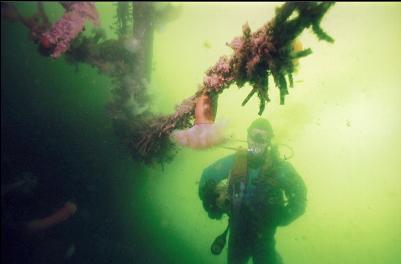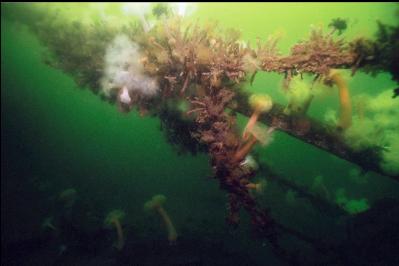 I took some more pictures July 21, 2006. Visibility was still around 10 feet. The water was full of stringy white bits of plankton that were snagged all over the wreck and anemones. By the end of the dive they were all over me. I had a better look at the rooms in the superstructure. The wheel is missing in the wheelhouse. Someone must have made off with it. In the galley there is a stove and a microwave. A small fridge with air trapped in it is floating up on the ceiling. In the "lounge" area, there is a sofa and entertainment center. The TV is gone, but there is still a VCR.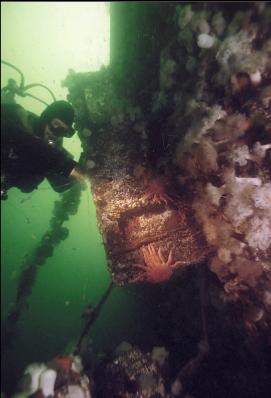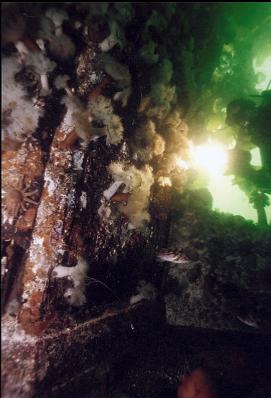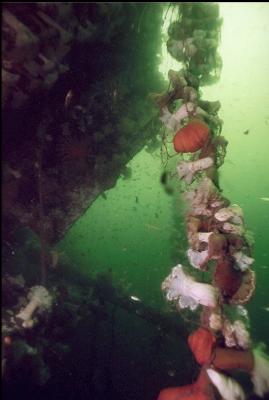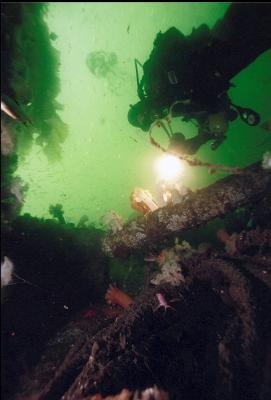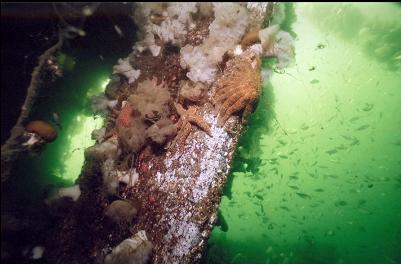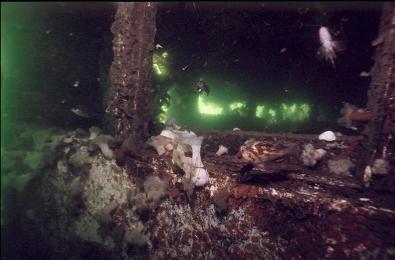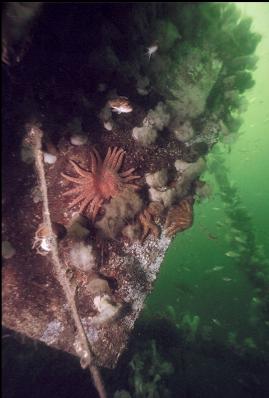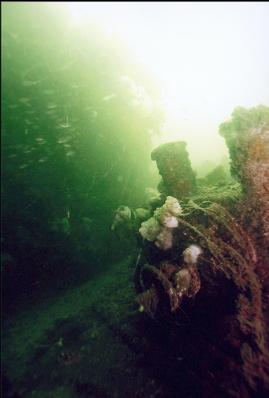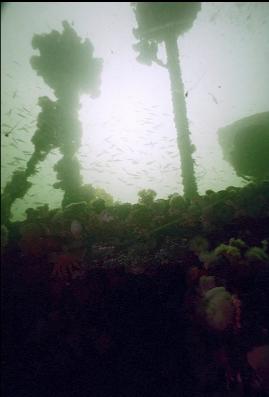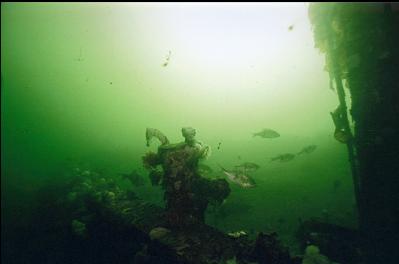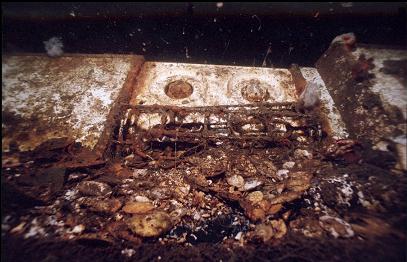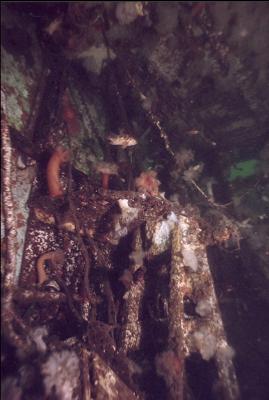 I came back in mid-March, 2007 and was astounded by the tropical visibility. -An amazing 15 FEET!!! I really should keep this place a secret or it will put Truk Lagoon out of business.