SUMMARY:
One of the few popular shore dives in Saanich Inlet.
LOCATION:
At the end of Senanus Drive on Saanich Inlet. For more info ask in a dive shop or check a map. A short trail leads down to the water from the small parking lot. From the shore, swim more or less straight out. Or a bit to the left. Or right if you like.
WHAT TO SEE:
A series of large and small reefs separated by sandy areas covers quite a large area. As you swim out further the bottom drops off in walls and ledges. The marine life is noticeably different in Saanich inlet than at other, more exposed sites. There aren't piles of invertebrates or intense colours here. If you use a light, the main colour seems to be pink because of the coralline algae coating the rocks in places. In summer and fall you are almost guaranteed to see big red jellyfish (lion's mane) and moon jellyfish. There are lots of octopus dens. The sandy areas are home to tube-dwelling anemones and swarms of shrimp. There are the usual lingcod and copper and quillback rockfish. In the deeper areas there is usually a school of yellowtail rockfish. There are a few varieties of nudibranch, including the giant or swimming nudibranch. At one deep area you can see a few boot sponges and a cloud sponge ( I'm not saying where. They're too fragile for swarms of divers).
CONDITIONS:
Depths range from a few feet to 120+ over the drop offs. Most of the reefs are 20 to 60 feet deep. Because of plankton blooms, visibility is usually terrible in late spring and early summer. Only a few feet. It sometimes clears up if you go deep, but don't count on it. During the rest of the year, visibility can be 50 - 100 feet although it's often a bit murkier near the surface. I've never felt much of a current here and it's usually calm as a pond.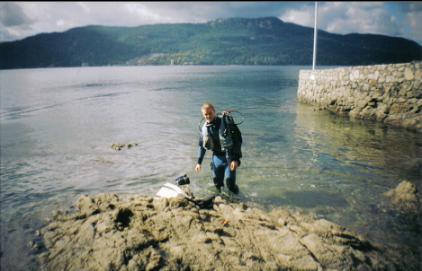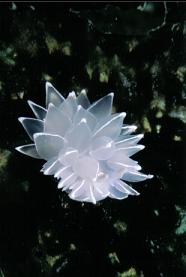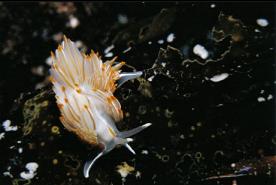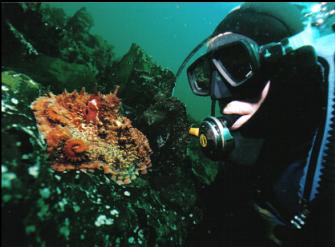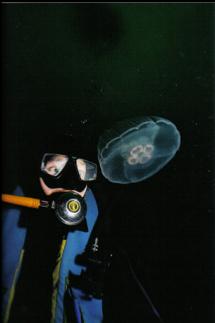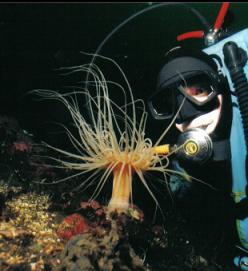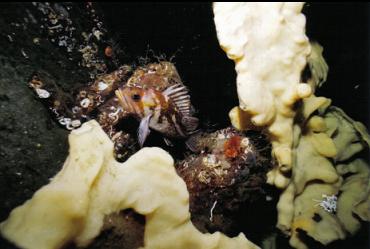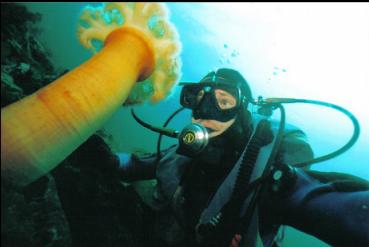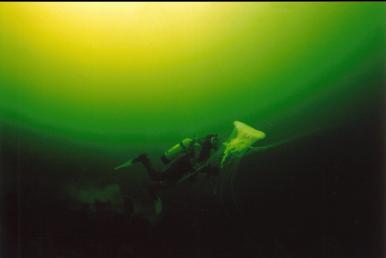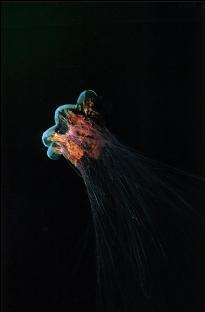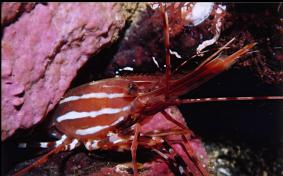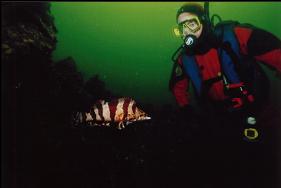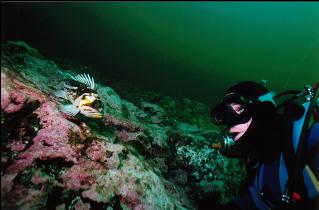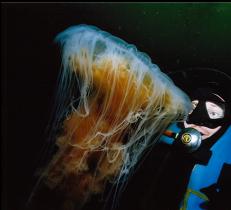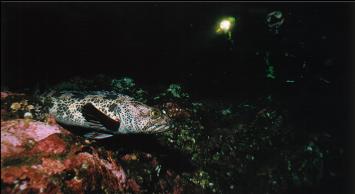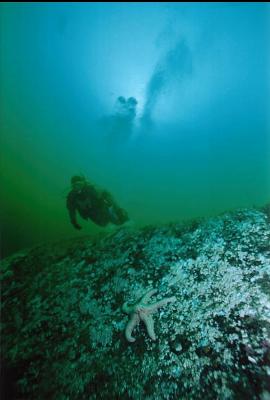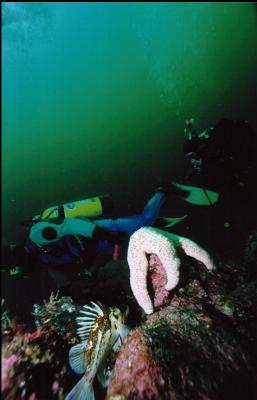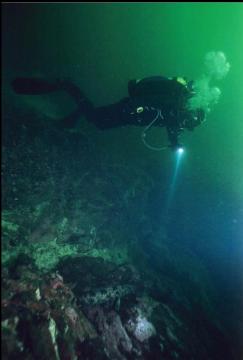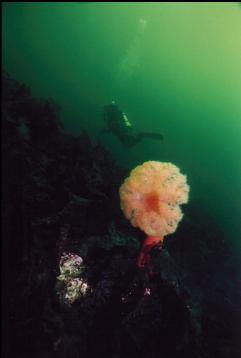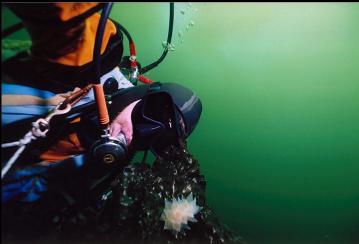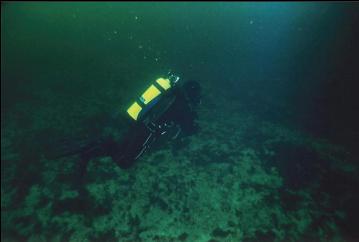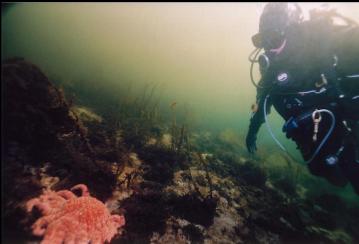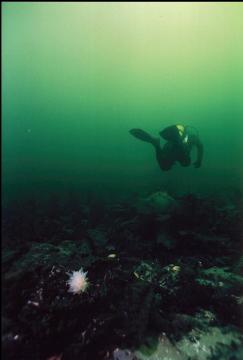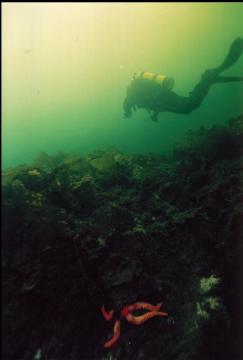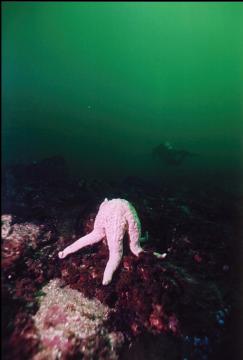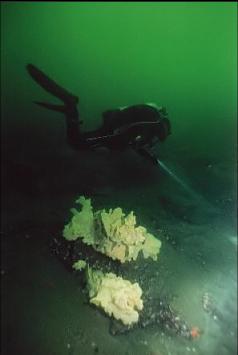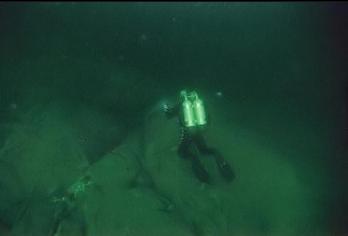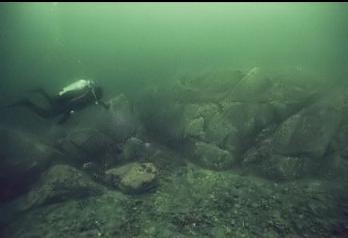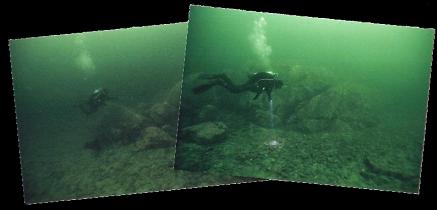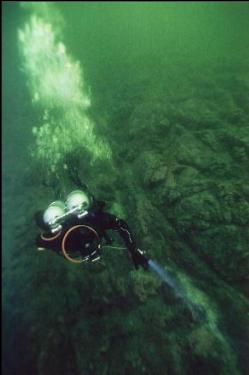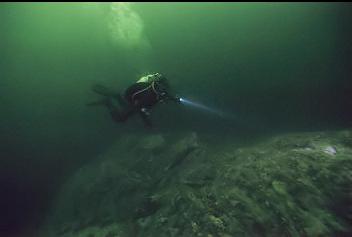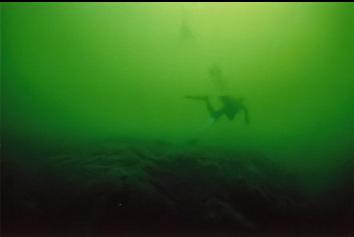 I haven't been here in awhile, since whenever I show up, the parking lot is full of cars from some shop's dive class. The secret is to show up before dawn or on a weekday if you want to have a hope of diving here. I chose the weekday route in mid-March, 2007. Visibility was down to a few feet in the shallows. Below 20 feet, visibility cleared to about 30 feet. I didn't see any octopus in the usual dens. This used to be my "guaranteed" spot for octopus. On one dive, years ago, I saw 10 occupied dens. The cloud sponge has a chunk broken off with a trail of tiny sponge bits leading to it. Parts of the sponge are turning that dead brown colour. This dive seems a lot more "empty" than I remembered it. There is still the big group of Yellowtail and copper rockfish at around 100 feet, but the rest of the place seems almost vacant. Hopefully, this was just my impression and all the fish and octopus were hiding just out of range of visibility as a practical joke.